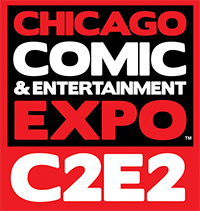 I call C2E2 my "home con" for a good reason. I've only missed one con since the first one in 2010 and it was the very first con I ever held a panel at. Five years later, and I find myself staring down the barrel of being on four panels this time around.
Friday, April 24
Racebending.com Presents Creating Diverse Characters
2:45-3:45pm, Room S403
"Racebending.com presents a diverse array of Novelists, Playwrights, Editors and Comics Authors who have crafted equally diverse characters across those mediums."
I'm thrilled to be joining my friends Mary Robinette Kowal and Wesley Chu, as well as Babs Tarr, Professor Turtel Onli, Danny Bernardo, and Gabrial Canada. Thanks to Racebending.com for inviting me onto this panel!
Saturday, April 25
From the Top Down: Creating Space for Diverse Voices
2:45-3:45pm, Room S403
"The desire for wider representation in geek culture has never been higher, but Artists and Creators aren't the only ones who bear responsibility for creating more diverse work. This Panel will explore the role of traditional gatekeepers – Editors, Publishers and other media Professionals – in promoting greater visibility for minority Creators and different perspectives, whether you're creating an anthology, choosing Guests for a Podcast or Panel or searching for new Writers and Artists. Panel sponsored in part by the Chicago Nerd Social Club."
I'm really excited about the group of media professionals who've agreed to be on this panel. Addressing issues of better representation and inclusion in geek media often come from the angle of asking what creators can do, so I wanted to have a panel focused on the role of traditional media gatekeepers in creating space for and supporting creators. Joining me are:
Aaron Amendola (moderator) – host of The Geek Show, creative director of VStheUniverse, board member for The Chicago Nerd Comedy Festival
Caitlin Rosberg – co-editor of The Ladies Night Anthology series, comics reviewer for The AV Club, Chicago Nerd Social Club Board of Organizers
Kate Lanksy – writer, freelance editor, First Reader at Strange Horizons
Matthew Peters – Editor-in-Chief of Mighty Ink Comics & Entertainment, host of GCPD: The Games, Comics, and Puppy Dogs Podcast
Michael Damian Thomas – Co-Editor-in-Chief of Uncanny: A Magazine of Science Fiction and Fantasy, co-editor for Queers Dig Time Lords, former managing editor for Apex Magazine
Yellow Fever, Yellow Peril and the Yellow Ranger: Asian Americans in Geek Culture & History
4-5pm, Room S405a
"From otaku Fan culture to the myth of the "model minority," there's a rising interest in, enthusiasm for and host of assumptions about Asian Americans in geek culture. How have Asian Americans been represented in popular culture? What effect does this have on Creators and Fans? How does one's ethnic identity affect the art we create and the way we consume it? Join Asian American Comic Writers, Geek Enthusiasts, Bloggers and Musicians for an interactive discussion on Asian Americans in geek history. Panel sponsored in part by the Chicago Nerd Social Club."
While we had a fantastic time doing this panel at Wizard World 2014, all the panelists agreed that we'd barely scratched the surface of what we wanted to say, so what better place to continue the conversation than at C2E2? Unfortunately Brad Sun isn't able to take part in the panel again, but I'm thrilled that Mary Anne Mohanraj (author of The Stars Change, director of The Speculative Literature Foundation, executive director of DesiLit) is able to join us. Original panelists Kat Tanaka Okopnik (essayist, fandom activist), Dawn Xiana Moon (Raks Geek), and Wesley Sun (Sun Bros Studios) will be returning.
(By the way, Wesley will be in Artists Alley at Table K1 – be sure to stop by his booth and check out Sun Bros Studios' awesome comics!)
Sunday, April 26
Fandom, Fun and Frustration
3:45-4:45pm, Room S401
"It's been a rough year for many geeks and nerds, as fandom can be both a source of both fun and frustration. Our favorite shows and characters can be problematic and our fellow geeks aren't always as welcoming as we hope. Panelists will discuss how to cope with some of the burn out that comes from merging social awareness with our geeky passions by rediscovering our connections to the fandoms and communities we love, even when the work of making the geek world better becomes frustrating. Panel sponsored in part by the Chicago Nerd Social Club."
I've only been active in fandom and an outspoken advocate in geek spaces for roughly four years, but sometimes it feels like forty. And I know I'm not the only one who feels that way. Burn-out is a real concern for many of us, so it's important to have coping strategies and occasionally remind ourselves why we love our geeky, nerdy passions and communities. I've worked with these amazing women in different capacities before so I'm excited to learn from their experiences.
Anne Petersen – Chicago Nerd Social Club Board of Organizers, co-organizer of Chicago Nerd Social Club's Book Club
Jennifer Cross – organizer of Just Write Chicago
Laura Green – "Queen of Drinky Things" at Geek Bar Chicago
Laura Koroski – cosplayer, blogger of Challenge by Geek
Erin Tipton – veteran C2E2 panelist, nerdy knitter extraordinaire
I'm going to be getting a lot of use out of my extra large travel coffee mug because I am not going to have time to be stuck in that line at the lone Starbucks at McCormick Place!
And if you're free on Saturday, April 18, from 3-5pm, come by Geek Bar for Chicago Nerd Social Club's Pre-C2E2 Meet & Greet! CNSC does this meet up the weekend before C2E2 every year, and it's a fun chance to meet some of Chicago's awesome nerdy community. There will be board games, trivia, and a chance to win four full-weekend C2E2 passes*!
See you at C2E2!
(*You must register for the event to qualify for the drawing, registration link contained in the CNSC event listing.)